Ohana was founded on January 2, 2013 in Evanston, IL, just north of Chicago. We started as two doulas — Jocelyn Alt and Giselle De la Rosa — with a vision to provide a place where expecting and new parents could find personalized, high-quality education and support as they prepared for and welcomed a new baby. To realize this vision, we grew to a team of 15, including birth doulas, childbirth educators, parent group facilitators, prenatal yoga teachers, parent coaches, and therapists. In June 2014, Ohana Founder Jocelyn Alt moved back to her hometown of Seattle and opened the second branch of Ohana there.
In the summer of 2015, we changed the structure of the team in Chicago from a centralized organizational format to one in which the Ohana team members now take clients through their own private practices. To inquire about any of the services the team offers, please contact the appropriate team member(s) directly using the contact information listed below.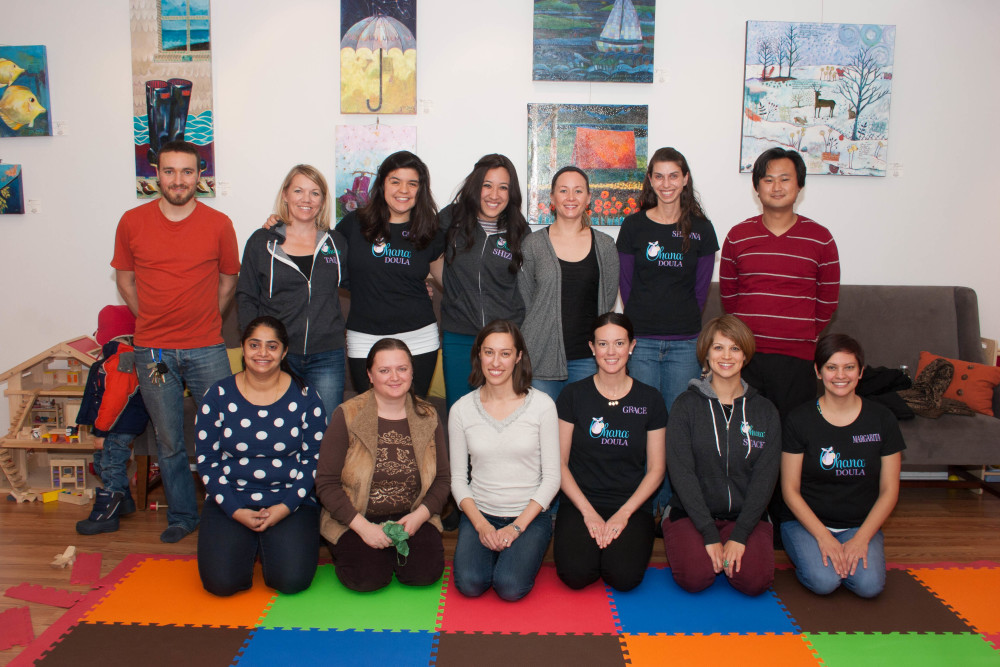 From left, back row: Andy Ross, Tara Van Dyke, Caroline Taromino, Shizue Taerbaum, Joanne Fortuna, Shawna Mertens, Sang Yup Lee. From left, front row: Gowri Vishwanath, Cristina Berchez, Jocelyn Alt, Grace Lombardo, Stacey Hoekwater, Margarita Valbuena. Not pictured: Peggy Healy, Nicole Cison, Amber Kozawick, Brenda Shover.
---
Ohana Childbirth Classes
Ohana childbirth classes are designed to cover the information most important to expecting parents as they prepare for their upcoming birth and the beginning of parenthood. Some childbirth classes offered by other organizations cover primarily natural pain management. Others, including many hospital-based classes, focus primarily on the medical side of birth. Ohana childbirth classes provide in-depth coverage of both natural birth techniques and medical interventions because we believe that parents are best prepared to make the decisions that are best for them — both before birth and during labor — when they understand their full range of options.
Ohana classes draw from a variety of approaches including: BirthWorks, Informed Beginnings, Lamaze, Bradley Method, Birthing From Within, and Hypnobirthing.
As of September 2015, Ohana Childbirth Classes in Evanston are now being taught by Ohana team member Grace Lombardo through her business Diamond Doula Care. Please visit the Diamond Doula Care website or contact Grace for more information at diamonddoulacare@gmail.com.
---
Ohana Chicago Team Members
Grace Lombardo

Grace's passion for doula work runs in her family; her mother has been a practicing birth doula for over 15 years. Grace's doula journey began after the birth of her first son, Luca, in 2008. Within the following two years, Grace became a certified birth doula with Doulas of North America (DONA) International and welcomed her second child, Cecilia. In 2011, Grace started her own doula practice and became known as the Diamond Doula as she had previously spent more than a decade in management for Tiffany & Co. and Harry Winston. She welcomed her third child, Enzo, in 2013.

Grace joined Ohana in February 2014 and started teaching childbirth classes with Ohana later that year. Grace's doula and childbirth education philosophy is one of empowerment, advocacy and compassion. She believes that every woman deserves the birth she desires and is humbled to join families on this journey. It is an honor each and every time she is invited to a baby's very first 'birth'day party.

Grace and her husband Joe live in Northbrook. Watch for Grace cruising around the North Shore in her 'Doula-Mobile', with license plate DOULA II.

Email: diamonddoulacare@gmail.com
Website: www.diamonddoulacare.com
Service Area: North Shore Suburbs

Shawna Mertens

Doula / Childbirth Educator

Shawna's passion for working with new parents and families comes from a strong belief that being surrounded by a community of support can make this huge transition a much more joyful and smooth one. Her goal as a doula and childbirth educator is to be a part of that community, as a source of comfort and information. Clients find Shawna to be calming, kind, and respectful. Shawna believes that each family has different desires and goals, and enjoys supporting families as they make choices regarding their care, and their parenting.

Aside from her professional doula training, Shawna is trained in advanced rebozo technique for pregnancy, labor, and postpartum support, as well as acupressure for labor support.

Along with Margarita Valbuena, Shawna founded Third Coast birth Services in August of 2015. Shawna is front and center, working directly with families and providers to further our mission. She teaches our childbirth education classes and provides labor support to our clients as a doula. She has been a birth professional for over 2 years.

Email: shawna@thirdcoastbirth.com
Website: www.thirdcoastbirth.com
Service Area: Chicago, North Shore Suburbs, Western Suburbs

Margarita Valbuena

Child Development Specialist / Doula

Margarita firmly believes in each parent's ability to have a positive birth and parenting experience. In addition to her professional training as a doula, she has a Master of Science degree in Child Development from Erikson Institute and 13 years of experience as an child development specialist, supporting new and growing families as they navigate the early years of parenthood.

After becoming a mother of two inquisitive, spirited children, she realized the invaluable asset of having a doula on your birth support team. Margarita provides her clients with unconditional support and collaborates with care providers to ensure a respectful, well supported birth and parenting experience.

Along with Shawna Mertens, Margarita founded Third Coast Birth Services in August of 2015. Margarita manages the behind-the-scenes aspects of Third Coast Birth in addition to facilitating Parent Support Groups.

Email: margarita@thirdcoastbirth.com
Website: www.thirdcoastbirth.com

Cristina Berchez

Doula

Cristina received her doula training from Doulas of North America (DONA). She loves supporting women and their partners in the birth path they view as ideal for them, including natural birth, medicated birth, C-section or VBAC (Vaginal Birth After Cesarean). Cristina is the mother of two boys and carries on the passion for the cherished time of her own childbirth in her doula work. Originally from Romania, Cristina holds a B.A. in English Language and Literature from Babes-Bolyai University in Cluj, Romania. A teacher of yoga/meditation for over 20 years, Cristina knows the value of inner balance and brings it into the birth support practice. Cristina is also a placenta encapsulation specialist, trained through Tranquil Transitions.

Cristina currently resides in Des Plaines, IL with her husband Eugene and her two sons, Victor and Alex. In her spare time, she enjoys cooking with fresh produce from farmers' markets and community supported agriculture, gardening on her balcony, and making jewelry.

Email: birthtimechicago@yahoo.com
Website: www.birthtimechicago.com
Service Area: North Chicago, North Suburbs, Western Suburbs

Nicole Cison

Doula

Nicole has been working with families in the Chicago area as a birth and postpartum doula for 14 years. She was trained by Doulas of North America (DONA) and MaternityWise. Nicole became a doula after the experience of having a doula for the long, 48 hour unmedicated labor of her oldest child. It was challenging, but nearly impossible without the constant support of her doula and her husband. She then had the pleasure of a 4 hour water birth with her second child at home with a midwife. Nicole's maternity care and labors were vastly different, but gave her the advantage of learning much about the very different experiences mothers can have with every birth. Nicole's style has been described by her clients as patient, calm, accepting, lighthearted and informative. In addition to doula work, Nicole's other interests include photography, running, painting, reading and gardening.

Email: info@northshoredoulacare.com
Website: www.northshoredoulacare.com
Service Area: North Shore Suburbs

Tara Van Dyke

Doula

Tara witnessed birth for the first time on her 13th birthday while watching her dad do medical work in Kenya, East Africa. This forever shaped her view of birth as a normal and beautiful life event. She went on to earn her BA at Wheaton College in Communications and work as an editor, but after the births of her own 4 children, she developed a strong desire to assist other new and expecting families in their transition to parenthood.

Tara became certified as a doula through the International Childbirth Education Association (ICEA) in 2008 and completed childbirth educator training as well. Tara considers it a joy and an honor every time she gets to walk with a family through the transformational experience of birth, and she seeks to strengthen all family relationships through the process. She lives west of Chicago with her husband and teenagers, where you are likely to find her on the sidelines of multiple high school sporting events, leading book club meetings, and occasionally skydiving.

Email: doula.tara@comcast.net
Website: www.familywaychildbirth.com
Service Area: Western Suburbs

Joanne Fortuna

Childbirth Educator

Joanne is a Childbirth Educator and Placenta Encapsulation Specialist. She has also been trained and worked previously as a Doula. Joanne is the mother of two creative girls. It is through her own birth experiences that she learned how important it is to have the right support people while birthing. She believes that every person deserves evidence-based care and is committed to helping families gather all information necessary to make informed decisions, and feel supported and empowered throughout the process. When she is not attending births or teaching classes, she enjoys spending time with family, homeschooling her daughters, and expanding her birth knowledge through classes and trainings.

Email: birthservices@live.com
Website: www.yourownbirthstory.com
Service Area: Greater Chicagoland Area

Sang Yup Lee

Dad & Baby Group Leader

Sang is an attorney and the father of a son born in 2012. He and his wife share the dream of being good parents and spouses and both pursuing their careers. As much joy as his son brought to his life, Sang wished that he had a peer support group of fellow dads during the first year of his son's life, but there was nothing like Ohana available in his community. In 2014, he joined Ohana in appreciation of the vision of the group and his sense of empathy and camaraderie for the dads whom the Dad & Baby Groups serve.

Sang received a BA in Psychology from the University of Notre Dame and a JD from the University of Notre Dame School of Law. He has worked for several legal services agencies and interned for the Honorable Judge Mary Yu with the Superior Court of Washington state. Besides working as a Dad & Baby Group Facilitator, he currently works as Of Counsel for Progressive Law Group LLC on class action consumer and employment law cases, and as an Affiliated Attorney with The Law Office of Kelli Dudley on fair housing cases. When he is not working or spending time with his son, you may see him out blues dancing or swing dancing with his wife.

Email: sang.yup.lee@alumni.nd.edu

Andy Ross, LPC

Licensed Professional Counselor

Andy is a husband and father who loves parenting and considers it the most challenging yet rewarding adventure he has undertaken. Andy is a Licensed Professional Counselor and holds a Masters of Pastoral Counseling from Loyola University. Along with Sang Yup Lee, Andy led the Dad & Baby Class program at Ohana. Andy grew up in the bush of Kenya among the Maasai people, which shaped his views on the importance of family bonds, intergenerational community, including children in our natural rhythms, and the wonder of nature. Andy loves to learn and teach practical insights from psychology, brain research, and traditional wisdom that can help us create more joyful homes. For example, he has come to believe that one of our most fundamental needs as children (and adults) is for people to express that they are "glad to be with us." When he is not working or washing dishes, Andy loves to wrestle with his toddler, do handyman things, try to play the guitar, play soccer, and get into the outdoors.

Website: www.andyrosscounseling.com

Peggy Healy, LCSW

Licensed Clinical Social Worker

Peggy is a Licensed Clinical Social Worker (LCSW). She began working with moms and babies as a postpartum doula and then as a board certified lactation consultant over a decade ago. She continues to pursue this passion in her work as a perinatal social worker at Evanston Hospital where she works with high-risk obstetric patients and their families, and facilitates the teen prenatal education group. In addition, Peggy has a private therapy practice, specializing in supporting women with perinatal mood issues.

Website: www.psychologytoday.com

Brenda Shover

Parenting Coach / Mom & Baby Group Leader

Brenda has over 20 years of experience working with infants, young children and their families. She holds an Illinois State Board of Education certification in Early Childhood Education (birth – age 8) and an endorsement in Special Education from National Louis University. For 12 years, she was the director of a preschool. She then decided to focus more on individual support and received her certification as a life coach through Life Purpose Institute of San Diego, CA, specializing in work with parents of young children. She is an expert in infant sleep and toddler sleep.

Brenda's passion is to partner with parents and empower them in all aspects of raising their families, encompassing the whole person and respecting the individuality of all. She is the mother of four adult children, two daughters and two stepsons, and is a proud grandma of four: three boys and a princess. Brenda lives in the western suburbs of Chicago with her loving husband and elderly, but still spunky English Springer Spaniel, Maddie.

Email: coaching@brendashover.com
Website: www.brendashover.com
Service Area: Western Suburbs

Caroline Taromino

Prenatal Yoga Instructor

Caroline's passion for working with pregnant women stems from her background in clinical psychology, where she researched the transformational process of pregnancy and motherhood. Caroline worked with pregnant women in New York City's Bronx neighborhood and was inspired to train to become a doula with Doulas of North America (DONA) in 2012. Caroline strives to empower every woman before, during, and after the birth process, and believes in the transcendent power that every woman can achieve with a supportive birth experience.

Caroline is a registered yoga teacher with a specialty in prenatal yoga. She trained with the Amala School of Prenatal Yoga for certification in this area. Caroline holds a BA in psychology from the University of Chicago, and an MA in clinical psychology from Columbia University. Caroline lives in the Western Suburbs of Chicago, and loves practicing yoga, cooking and spending time with her two cats.

Email: ctaromino@gmail.com
Advisors
Julie Harrison

Certified Nurse Midwife

Julie is a Certified Nurse Midwife with 35 years of experience providing health care to women. She was the Director of Midwife Service at Saints Mary & Elizabeth Medical Center for 12 years. Julie retired from midwifery in 2012, and now continues to be involved in the field through her role on the Ohana Advisory Group and other activities. Julie is the mother of two grown children.

Paul Leamon

Entrepreneur

Paul is a serial entrepreneur with a passion for shaping innovative ideas into successful, high growth enterprises through his company Venturenetix. His most recent success, Wellfount, is a venture capital backed, healthcare services company that has grown from seed concept in 2006 to employing over 100 staff across 9 states of operation today. His previous experience also includes almost 10 years of work in healthcare/business services consulting and investment banking with Booz Allen Hamilton and Wachovia Securities (now Wells Fargo Securities). He holds a BS in Public Affairs from Indiana University and an MBA from Northwestern University Kellogg Graduate School of Management.

Anita Verna Crofts

Public Health and Communications Professional

Anita is on faculty at the Department of Global Health and the Department of Communication at the University of Washington, where she serves as the Associate Director of Academic Affairs for the Communications Leadership graduate program. Her courses include: story creation and social engagement, leadership and organizational design in the digital age, and the interplay of culture, identity, and communication. Anita collaborates with partner institutions in the health care space worldwide to develop capacities in leadership, management, and policy development.

Giselle De la Rosa Berrio

Doula & Family Practice Medical Student

Giselle was one of the founding doulas of Ohana in Chicago and has now retired from doula work to attend medical school at the University of Wisconsin. She plans on pursuing a Family Medicine specialty after receiving her MD. She's a strong believer in the transformative power of support and education in helping all families get off to a healthy start regardless of age, structure, parenting philosophies or financial means. Originally from Colombia, Giselle holds a BA from the University of Illinois at Chicago and a professional public health certificate from the University of Nebraska.